Will British actor Paul Bettany ever get the recognition he deserves? A firm favourite of Ron Howard who cast him in A Beautiful Mind and The Da Vinci Code before tapping him for a key role in Solo: A Star Wars Story – his character was originally conceived as a computer generated alien, but Howard thought of Bettany and said, 'we don't need that' – his most famous gig is the voice of JARVIS, Tony Stark's artificially intelligent butler in the Iron Man movies. JARVIS became Vision, joined the Avengers and now has his own TV spin off, Wanda-Vision, debuting in early 2021 on Disney +. But you don't spend three years studying at the Drama Centre London in Chalk Farm to do franchise movies. Bettany is frequently cast as a pale, spectral presence, angry, efficient, not to be trifled with. The call from Richard Curtis never came, perhaps in part because of the dismal box-office performance of Bettany's 2004 romantic-comedy (opposite Kirsten Dunst), Wimbledon.  The next time Wimbledon's director, Richard Loncraine, hired him, it was as a villain in the Harrison Ford thriller, Firewall.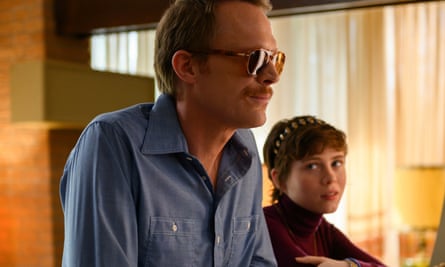 But (Vision aside) Bettany has one of his best parts in years in Alan Ball's second film as writer-director, Uncle Frank. Set initially in 1969, but mostly four years on, Bettany plays the educated black sheep of a Southern family. Whilst the kids play out front, the women congregate in the kitchen and the men cluster round the television, Frank Bledsoe is alone on the back porch of his parents' Creekville, South Carolina home, smoking a cigarette. His niece, Beth (Sophia Lillis) gravitates towards him. He's a New York-based college professor who encourages her to be who she wants to be and not give in to the will of her parents. It is a conversation that, in the way of many a movie, changes Beth's life. Four years later (in 1973), she enrols at New York University to be close to her uncle, in fact to show him, 'look I'm being what I want to be'. Only Uncle Frank has a different life to the one she imagined.
Since Ball won an Oscar for his first produced original screenplay, American Beauty (beating Being John Malkovich and therefore not being the most original screenplay of that year), he has excelled on television with the original series, Six Feet Under, a family drama set around a funeral business, and the Southern gothic vampire series, True Blood. Further success in feature films has eluded him – his debut as writer-director, Towelhead, only earned a blink-and-you-missed-it US release. Uncle Frank, which for the most part will be seen on small screens, after its 2020 Sundance Film Festival premiere, won't change that, but it's a solid feelgood drama about an enforced homecoming in which Frank travels with his niece by car for the funeral of his bigoted Southern pappy, Daddy Mac (Stephen Root, chewing over Rip Torn's leftovers).  
Frank finds that he's being followed (in a rented car) by his 'roommate', Walid (a scene-stealing Peter Macdissi whose best line is, 'don't take credit for my cooking'). He wants to be there to support Frank and has brought his razor and favourite tie. But Frank doesn't want Walid to meet his family, feeling the pervasive shame engendered in him by his father – shame that had tragic consequences.
In his own world, Frank is charismatic and self-assured, fending off interest from Beth's boyfriend, Bruce (Colton Ryan) at his house party in which Bruce and Beth invited themselves. Beth meanwhile tries her first martini and gets fantastically drunk. In one eventful scene, Frank cooks bacon for Beth by way of a hangover cure, Walid starts dancing and the phone rings to give Frank some bad news.
The story is told from the point of view of Beth, who doesn't really impose herself on the story. She has one scene where she addresses the attitude of a garage hand, who refers to her as a 'little lady' that struck me as a bit cruel – she calls him stupid, but doesn't think that he kept out of school and  forced to work there. Beth also refers to a scene in Mario Puzo's book The Godfather which her older cousins are reading, to make her seem ahead of popular taste (and reading above her age). This too makes her seem precocious. However, for the most part Lillis acquits herself well as the audience surrogate and she bears an astonishing resemblance to Sylvia Plath – more so than Gwyneth Paltrow who played her in the 2003 film. (I hope Lillis gets an opportunity to play Esther Greenwood if a film of The Bell Jar is ever remade.)
Although the film is set in 1973, Ball clearly wants the film to resonate to a modern audience. At one point, President Richard Nixon is discussed, and a character remarks that 'he's likely to cling to power' – an obvious reference to Donald Trump. The finale of the film speaks to a contemporary, divided, bigoted America, but pivots into something akin to wish-fulfilment, when Frank's otherwise crushed younger brother (Steve Zahn) tells him: 'I have two words for you.'
Bettany diverts much of his performance inwards as Frank becomes an explosive pressure cooker of mixed emotions. Close to the end of the film, Frank is subject to an act of cruelty that puts us on the edge of our seat.
Given the subject of the film, it is strange that Ball should use a surrogate to tell Frank's story, as if perhaps she were his saviour. The film has something in common with movies like The Help with white characters essentially telling stories about black Americans. It is shocking that Ball doesn't have the freedom to tell Frank's story a different way. With Beth as our storyteller, Frank becomes a supporting character. However, I didn't entirely believe that Beth didn't know Frank's story; if she can read The Godfather before her cousins, she sure as heck can pick up a hint on why Frank is treated differently. The feelgood ending makes you forgive this flaw as does the presence of Margo Martindale (as Frank's mother) and Lois Smith (as an elderly family member with a spider nesting in her hair) in the cast.
---
Uncle Frank is streaming exclusively on Amazon Prime