by Jordan King
It's hard to believe that almost two years have passed since the instantly recognisable Marvel fanfare last started up and heralded in a new entry to the MCU. Since Spider-Man Far From Home took us gallivanting around Europe (ah, travel, remember that?) as the world both in-universe and in real life reckoned with the aftermath of Avengers Endgame, a bit of a global pandemic put a stopper in Kevin Feige and co's plans.
With Black Widow and The Eternals put on ice for the year, and with all rational sense of time and place flung out the window, it seems almost poetic that our introduction to Phase Four of the Marvel Cinematic Universe has ended up being Matt Shakman and Jac Schaeffer's Disney+ original TV series, WandaVision.
An enigmatic, temporally twisted riff on sitcoms and variety shows of yore like I Love Lucy, Bewitched, and most prominently The Dick Van Dyke Show, WandaVision sees MCU alumnus and everybody's favourite cosmically inclined couple Wanda (Elizabeth Olsen) and Vision (Paul Bettany) somehow stuck in the mid-20th Century picket-fenced suburb of Westview.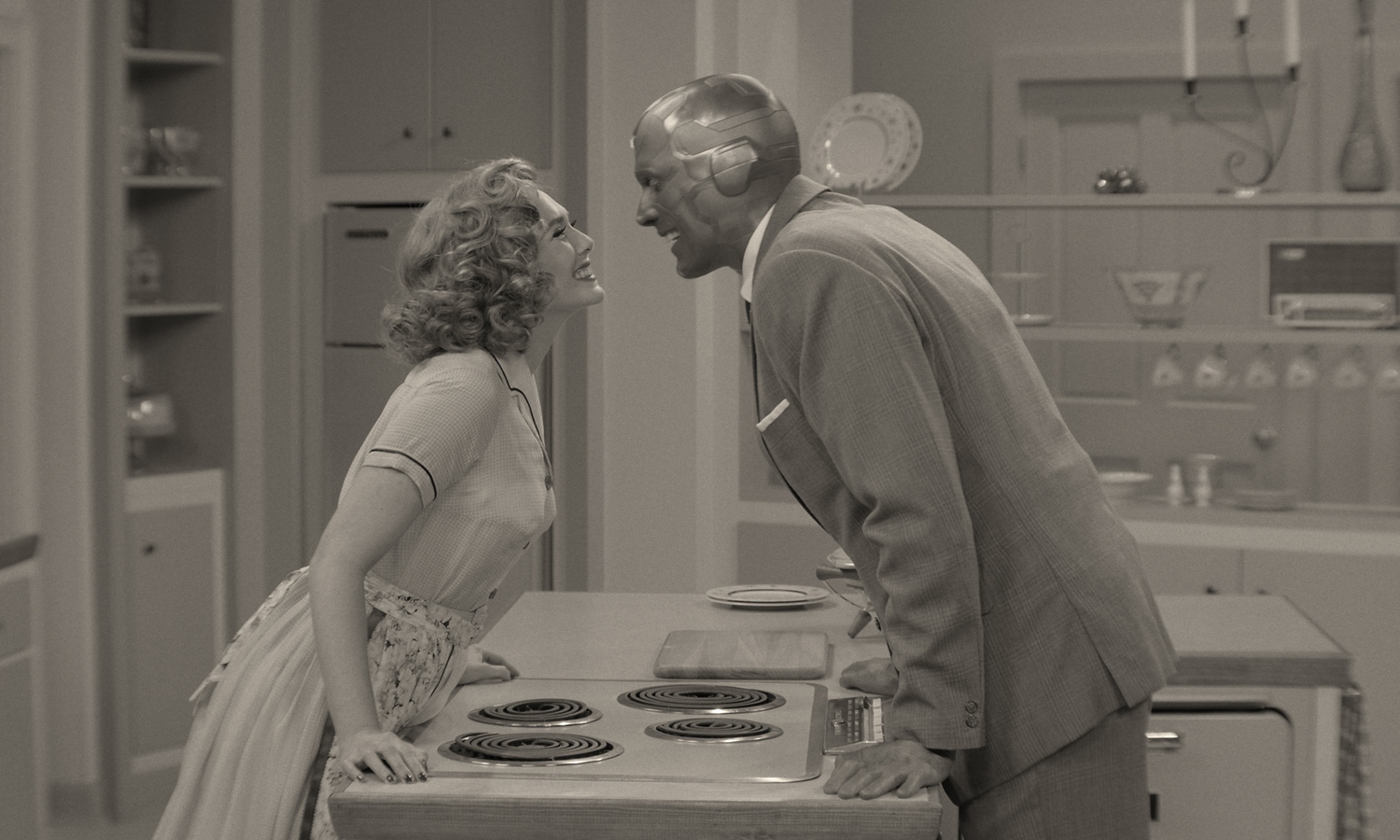 As the couple pratfall and scramble around, trying to fit in with the likes of nosy neighbour Agnes (a scene-stealing Kathryn Hahn) and the wider community, they also find themselves questioning how they have ended up where they are and what is going on.
Whilst the first episode is mostly devoted to setting the tone of the series, with canned laughter (recorded live however for added authenticity), punchline set-ups and pay-offs, and gloriously antiquated antics galore, under the monochromatic veneer of care-free comedy we're given tantalising teasers of a deeper, darker core.
During dinner with the Harts, Vision's boss and his wife, Mr Hart repeatedly asks why Vision and Wanda are in Westview. As Wanda looks on uncomfortably, Mr Hart suddenly begins choking whilst his wife like a stuck record repeatedly tells him to 'Stop it'. This jarring interruption to proceedings is our first of several early clues that something is amiss in WandaVision, and the inference that Wanda is either constructing the world her and Vis find themselves in as a refuge or is in some way being held hostage in this world is something that really sets out the stall for this series' marriage of timeless comedy and modern spelunkery.
In the second episode, the sense of something wicked this way coming increases considerably, as does the realisation of the show's comic potential. Paul Bettany comes alive on screen in a way unseen before as he plays drunk after Vision swallows some gum at a community club meeting.
Taking clear cues from show inspiration Dick Van Dyke, as well as the likes of Hugh Laurie and even a little lick of Chaplin in his sympathetic stupor, Bettany's elastic way with words and loosey-goosey physicality free Vision from the more severe expectations of the character in mainline Marvel films.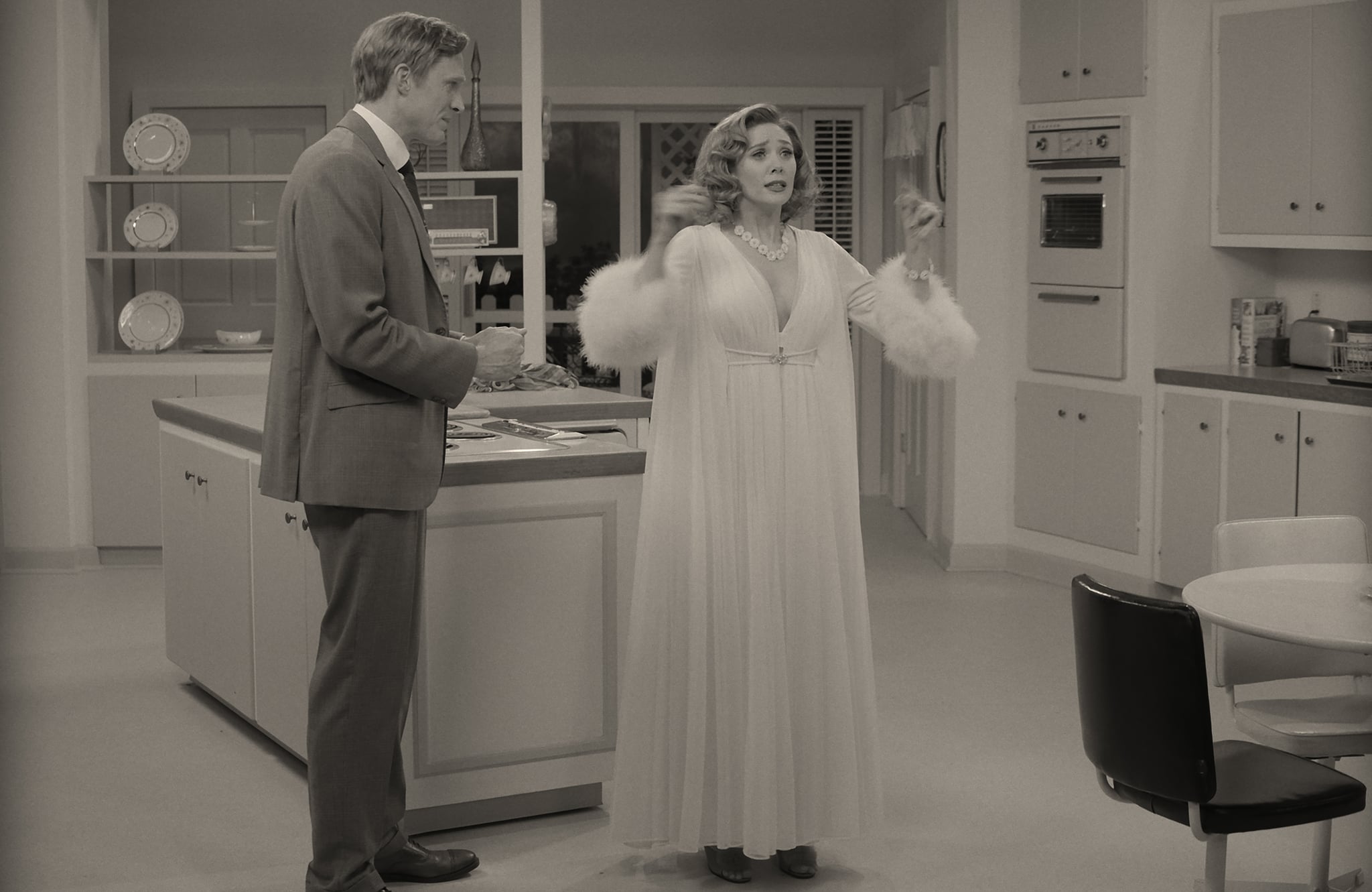 During a riotous final ten minutes, we're entreated to Olsen and Bettany on fire as magic show double-act Illusion and Glamour. As Vision's attempts to dazzle the crowd with his powers make it increasingly more difficult to keep the couple's true nature under wraps, Wanda has to keep up with her partner by messing up his tricks, much to the amusement of the crowd. As the pair both grow more and more exasperated, the comedy only increases, and it is in sequences such as this that WandaVision's sense of purposeful rather than gimmicky uniqueness is assured.
By the second episode's end however, we are left in no doubt as to storm's a-brewing over Westview. Having earlier seen Wanda's honesty called into question by Emma Caulfield's Dottie (how great it is to have Caulfield back on our screens, by the way), and having heard a man's voice interrupt the radio to ask Wanda 'Who's done this to you?', it is clear that all is very much not as it seems for Wanda and Vision.
Throw in a red helicopter in a black-and-white world, an unexpected bump, and an even more unexpected beekeeper, enough questions have been asked in two episodes to leave viewers salivating over the prospect of what's to come.
Boasting an era authenticity to be applauded, whipsmart writing, and Bettany and Olsen proving themselves to be quite possibly the sexiest, smartest, and most compelling couple on TV right now, WandaVision may not have been the start to Phase Four that Marvel's top brass wanted, but it is shaping up to be every inch the start to Phase Four that fans do. Something old, something new, something truly special.
P.S Rewatch the intro to Episode 2 and keep an eye beneath the floorboards. You may notice a familiar looking helmet belonging to a certain Satanic supervillain.
---
WandaVision is out on Disney Plus now!