by Jordan King

Unfurling its acute observations of the profound moments that add up to a life with the poetic complexity and simplicity of a Haiku, Ryusuke Hamaguchi's richly deserved Silver Bear Grand Jury Prize winner Wheel of Fortune and Fantasy presents us with a triptych of tenderly crafted short stories that are linked by a common thread – love. Shot through and scripted with a naturalism and female focus that has already earmarked Hamaguchi as an emerging auteur in his own right, the Japanese filmmaker's latest feature is a veritable feast for the eyes, ears, heart, and soul.
In the first of Hamaguchi's three perfectly timed forty minute tales, 'Magic (or Something Less Assuring)', we meet model Meiko (Kotone Furukawa) and best friend Gumi (Hyunri) as they share a cab ride home after a photoshoot. Gumi is floating on cloud nine after meeting a guy, Kazuaki (Ayumu Nakajima), the day before. What had begun as a two hour work meeting soon spiralled into 15 hours later, a missed train, and the pair telling each other things they never had before, including noteworthily how crushed Kazu was by his ex-girlfriend breaking up with him. Though Gumi initially is coy about her encounter, Meiko's relentless line of questioning eventually wears down her defences as the lovestruck art director poetically muses 'I didn't know conversations could be so erotic – we we caressed each other through conversation.' Coincidentally, Hamaguchi's own screenplay achieves a similarly intimate, affectionate effect – he writes his characters so lovingly and with such attunement to the nuances of human interaction that his dialogue caresses the viewer's intellect and encourages an emotional response.
Gumi continues to gush about her perfect date until the cab arrives outside her apartment, and in one deft move – Meiko asking the cab driver to turn around as the camera pans away from Gumi – Hamaguchi shifts the focus of the narrative from the woman who has dominated the opening of the story to explore a yet deeper layer of plot bubbling beneath the surface. Soon we find ourselves at the office of Kazu, and we learn that the ex he spent so long lamenting to Gumi is in fact Meiko, who we now see has just suffered through a long cab journey listening to her best friend preach the virtues of her new beau. As Meiko and Kazu have a blazing row about their tempestuous love affair, during which Kazu scathingly chides Meiko by saying 'You're just pissed off about losing the man who was never yours', Hamaguchi captures the raw anger and deep-rooted hurt of a love that once shone and now casts a shadow over all the separated pair do. Yukiko Iioka's unobtrusive camerawork, punctuated only with occasional sharp zooms that see the frame unpick the characters' conflicting emotions, shines in scenes such as this.
As the short eventually brings Gumi, Meiko, and Kazu together in a café encounter that is excruciatingly awkward before being touched by a magical moment of intervention, Hamaguchi's evident empathy for all three of his protagonists' plights is abundantly clear, neatly setting up the open tone of his cinematic discussion with Wheel of Fortune & Fantasy that will carry through the following two yarns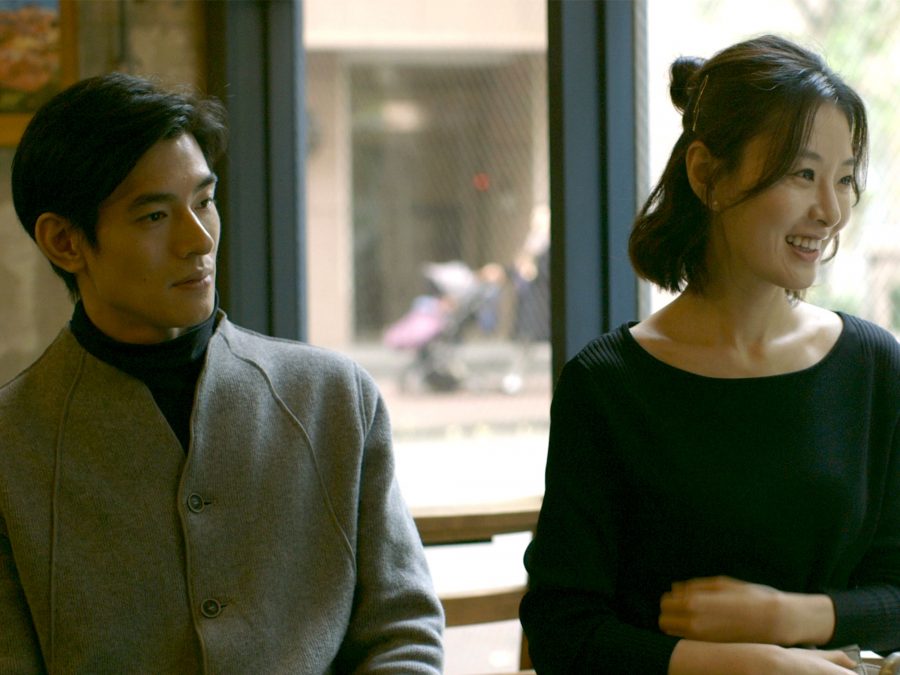 In 'Door Wide Open', one unorthodox love triangle makes way for another of sorts. When esteemed professor Segawa (Kiyohiko Shibukawa) wins a prestigious literary award, malcontented former student Sasaki (Shouma Kai) coerces his friend-with-benefits – married mature student Nao (Katsuki Mori) – into setting a honey trap for his old teacher. When she arrives at Segawa's office though, whose door as the title alludes to remains ever open to assuage any accusations of unfairness or impropriety, Nao finds herself quickly undone by Segawa's openness and falling into the trap she herself has set.
Shibukawa and Mori's chemistry in this second story is palpable, and whilst at the beginning of the story I felt less connected to the narrative conceit than the first short's, it didn't take long for Hamaguchi to catch me in his delicately spun web of words and worldly musings. To witness Segawa and Nao at an impasse in both of their personal lives, questioning who they are as people and as sexual beings, and to have that exploration of self performed in such a spare and intimate manner by the filmmaker, is something special to behold. Whilst Hamaguchi's status as a male writer-director writing for women may raise some eyebrows, his understanding of emotion and evident desire to better understand the fairer sex can surely only be applauded. In Nao, he has crafted a character whose emotional tumult is equalled by her experiential depth, and he has found an unlikely source for a story that bears more poignance than its premise may suggest.
Where the first two tales in Hamaguchi's mini anthology depict love that has been complicated by external forces and twists of fate that have a sharper edge to them, in triptych closer 'Once Again' we are treated to the most beautiful meditation on that core theme of love yet. Set in an alternate present or very near future where the world has gone offline, making connection less easy but far more meaningful, the final story here centres around thirtysomething Natsuko (Fusako Urabe). Following a high school reunion where Natsuko tries and fails to find an old classmate of hers, in a moment of fortune as she heads home they cross paths. Nana (Kawai Aoba) is a housewife now with a child at home, a world away from the woman Natsuko once knew and, as we later learn, still loves. As the pair talk about life since school, it becomes apparent that a case of mistaken identity has befallen them both. But, seeing in each other the chance to say things long and painfully left unsaid to their lost loves, the duo agree to pretend to be someone else for a little while.
'Once Again' greets the magical with the merely coincidental, shining a light on those fleeting moments of connection we find in unlikely places that helps set us back on our way and find closure in our lives. Through the tale of two women whose sexuality has been treated as a cross to bear in private, and who are given a chance to say how they truly feel about their youth's romance unburdened by judgment, Hamaguchi passes thought-provoking comment on the notion of identity and collective consciousness. Again filmed with an economy of shots and camera movements, we are presented with things simply as they are, as implausible as they may seem, and the result is magical.
Wheel of Fortune and Fantasy is a remarkable piece of cinema. Posing as three short films that stand alone superbly and become truly special when seen together, somehow in the space of two hours it feels as if we are reminded and taught anew what love is and how it can manifest in our lives. In moments of fortune, and in moments of fantasy, what we are ultimately shown is the deeply human truth that we all long to love and be loved. Fittingly, I loved every moment.