I have never understood the appeal of Le Mans, the world's oldest endurance car race. First held in 1923 at the Sarthe road racing circuit just outside the titular French town, it entails groups of drivers (nowadays a minimum of three per team) taking it in turns to drive the same car round a circuit for twenty-four hours. The course is 8.5 miles long, or 13.6km. The race takes place in June each year and demands that the pit crew as well as the drivers maintain concentration over the twenty-four-hour period. But to watch a race for that length of time. There is a reason why the drivers like nine-time winner Tom Kristensen aren't well known.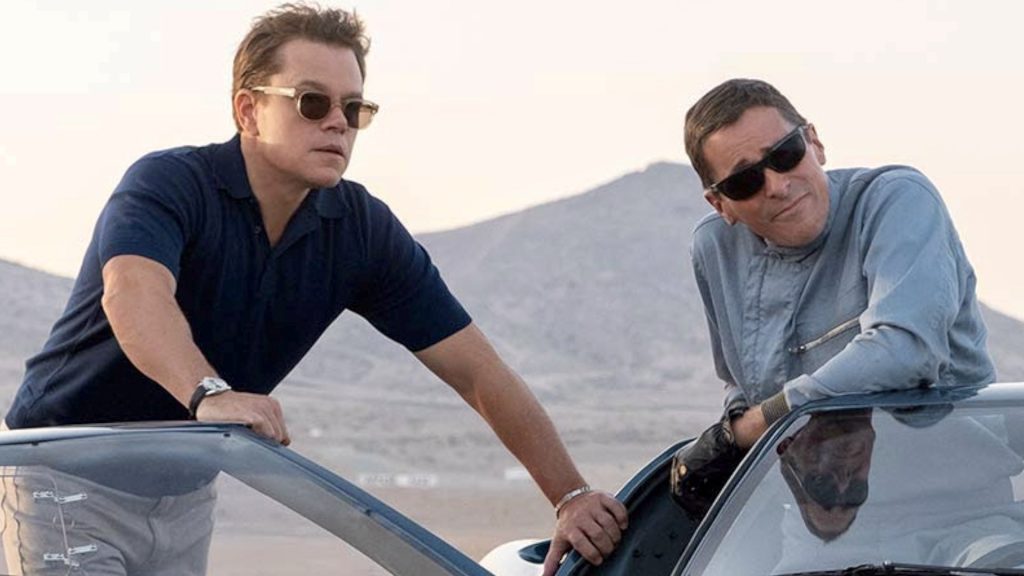 Happily, Le Mans 66, aka 'Ford V Ferrari' is no such endurance test. It is two and a half hours of flag-waving cinematic pleasure elevated by the chalk and cheese double act of Christian Bale (as race driver Ken Miles) and Matt Damon (as race team manager Carroll Shelby). It gives the audience what it wants – Batman facing off against Jason Bourne – but spills groceries rather than levels buildings.
Characterisation is on the simple side. Ken is your strutting, bad tempered Brit, who loves to race and has a healthy cynicism. He makes engines go fast and as a not very successful mechanic infuriates his customers by telling them that they must put pedal to the metal to get the best out of their vehicle. Hasn't he heard that the customer is always right?
Carroll is a disappointed former champion, the only American at that point who had won Le Mans, who is asked by the Ford Motor company to put a team together. In the movie at least, he only has one driver in mind – Ken Miles, whom he just about saved from being disqualified for a race meeting for having a non-regulation trunk (or boot). As Ken drives, Carroll mutters to himself, predicting the moves that Ken will make to overtake the car in front of him. Ken is his surrogate, even though Miles is not really a people person.
It is a bit of a shock to hear Bale employ an English accent, having seen him use an American one in role after role since American Psycho. (Did anyone besides me see him in Metroland?) He sounds a bit like an American doing a British accent, which is to say that he lays it on thick, delivering his lines as if slapping down a kipper, dodgy as a two-bob note. There was a time (specifically, Terminator: Salvation) when Bale took himself too seriously. Here, he has fun and Damon is an agreeable straight man. Damon does have his moment, when Carroll takes his benefactor, Henry Ford II (Tracy Letts) out for a spin. Mr Ford II has no idea how fast his race car really is; Letts does facial contortion like no supporting actor before him.
The drama ostensibly begins with the Ford Motor Company in the doldrums. Henry Ford II sends his employees home; they can only return to work with an idea. The script by the Butterworth brothers, Jez and John-Henry (Edge of Tomorrow) and Jason Keller (Escape Room) operates in that exaggerated movie reality where Carroll doesn't have a home life and his team at one point lock a Ford company man (Josh Lucas) in an office to stop him from interfering. Ford employee Lee Iacocca (Jon Bernthal) suggests that he go into the race car business, acquiring Ferrari, which produces a great product but is losing money. Ferrari has no intention of being sold to Ford. Its CEO lavishes insults on Iacocca and his colleagues. In the film, Ferrari does it to increase its price, to get interest from Fiat; in reality, Fiat acquired a 50% stake in Ferrari in 1969, three years after the events in the film take place. At any rate, rejection prompts Henry Ford II to go into the race car business.
Ken is the beating heart of the film and is a family man. His wife (Catriona Balfe, channelling Cilla Black) comes into his machine shop playing the customer who likes to be seduced by a man intimate with crank shafts. They have a young son, Petey (Noah Jupe), who idolises his father. Bale says Petey's name almost as a homage to Michael Gambon's delivery in Fantastic Mr Fox, 'you made a bad song, Petey'.
The race sequences are thrilling; sound design, stunt-driving and editing are all top notch. You root for Ken as a pure driver, seeking to make the perfect lap.
Racing sports movies traditionally don't do well at the box office – the most recent example, Rush starring Liam Hemsworth as British driver James Hunt was what the Americans call a specialty release. Even Steve McQueen couldn't propel his racing movie, Le Mans, to box office success. But director James Mangold (Logan, Copland) has his hands firmly on the steering wheel and keeps the audience engaged. The film has a lightness of touch, taking its corners well and succeeds in putting smiles on the faces on the hardiest of non-petrolheads.
---
Le Mans '66 is out in on Digital today.